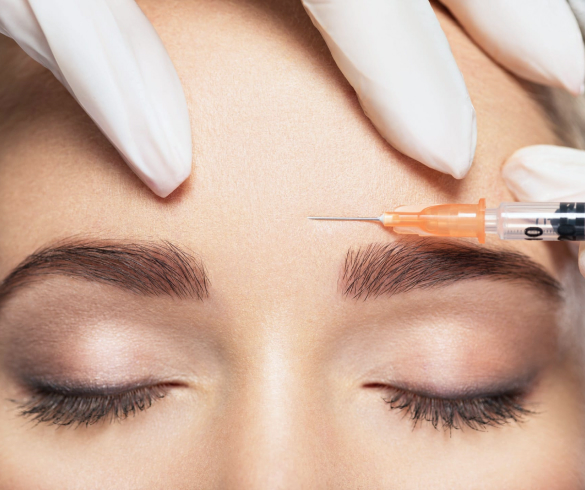 Botox in Hialeah, FL
Vida & Co is a Miami beauty clinic that offers a full range of cosmetic services to enhance natural beauty. Be it Botox, lip augmentation, exosome facial, or PRP treatment, we provide all these services and more. You can count on our experienced staff to bring out the most natural results. Are you ready to look the best version of yourself? Contact us now to book a session for Botox or dermal fillers. We are the best clinic in Hialeah, FL for Botox. Schedule a consultation now.
Book Now
What is Botox Treatment?
Botox is a type of drug injected to weaken or paralyze facial muscles. The injections are used to reduce wrinkles on the skin and treat certain medical conditions. Botox is made from Botulinum toxin. While it is inherently a toxin, when used in small doses by the doctor, it could have several advantages, primarily as a cosmetic.
As a cosmetic, Botox is chiefly used to reduce skin wrinkles but can also be used to treat eyelid spasms, bladder disorders, migraine, and excessive sweating with the approval of the Food and Drug Administration (FDA).
Signs You Need Botox Injections
Botox is a perfect way of enhancing natural beauty, but you need to wait for the right time to undergo this cosmetic treatment. Here are 5 signs that you are ready to get botox injections.
Frown lines or forehead furrows
The forehead is one of the first places where wrinkles would set camp as aging sets in. If you've developed frown lines, now's the time to consider getting botox. The injection would knock the frown lines right from your forehead.
Smile lines
Smile lines take shape around your eyes when the muscles around the region are worked up. Botox treatment is highly effective against smile lines, also called crow's feet, as the drug can relax the muscles around your eyes.
Smoker's lines
As the name suggests, smoker's lines become visible in people who used to pucker their lips to smoke for years. They appear in the form of vertical lines above your mouth. Botox can help reduce these lines if you've quit smoking. If you're looking to have Botox or dermal fillers treatment done in Hialeah, FL, contact Vida & Co for quality services now.
Dynamic wrinkles
If creases are threatening to appear on your skin but have not exactly taken form, it's the best time to get botox done. The treatment is most effective when creases are treated before they get the time to set in and become acute.
Prevent wrinkles
You can consider getting botox even in your 20s and 30s to prevent creases from developing on your skin altogether. At the first appearance of lines, contact Vida & Co for botox, Hialeah consultation.
It should be noted that not everyone can get botox procedures. The injections are meant for relatively younger skin. If your wrinkles are severe and aging has completely set in, it's best to consult a skin doctor before getting botox. Your skin tone has to be elastic enough for the botox to work. Moreover, if your facial creases were caused due to sun damage or gravity, botox may not be all that effective. Consider all these things before booking an appointment for botox and dermal fillers.
What to Expect After a Botox Injection?
If it's your first time getting a botox injection, it's best to prepare yourself for redness, swelling, bruising, or headache. These are some common complications you might face after the treatment. After the procedure, you may develop some red bumps on your skin for 20 to 30 minutes. Bruising comes next, although it only appears in certain cases and would take a couple of days to heal. Headaches are also quite common. You can ask your doctor for medications to relieve these symptoms, but never consume anything without a prescription, and avoid taking aspirin. Anti-inflammatory medication can thin your blood, which could aggravate your bruising.
You should also avoid any intense physical activity, such as a workout, 4 hours following the procedure, as such movements can cause the Botox to shift from the position that your doctor injected it into. You'll also notice that your muscle movement is relatively constrained in the areas where the Botox is injected. Botox prevents creases from appearing when you smile or frown by restricting the movement of facial muscles.
Why You Need To Choose Vida & Co For Botox and Dermal Fillers In Hialeah
Whether you're familiar with Botox and other cosmetic procedures, or a complete newbie, you can trust Vida & Co to give you the best cosmetic treatment in Hialeah, FL. We are a licensed beauty clinic that has been in business for years and has helped countless clients become the best versions of themselves.
All our professionals are qualified individuals with years of experience in providing various cosmetic treatments, including PRP & PRF Treatment, Botox, Lip Augmentation, Kybella, Sculptra Gluteal Lift, PDO Threading, dermal fillers, and Exosome Facial. Both male and female patients can benefit from such treatments. We take your health and natural look into account while working on accentuating your innate beauty and enhancing your facial features to look your best.
If you want any cosmetic procedure done, like botox or dermal fillers, schedule an appointment with us in Hialeah now.
With
over 80,000 treatments

performed, come see why clients choose Vida & Co. Book Now