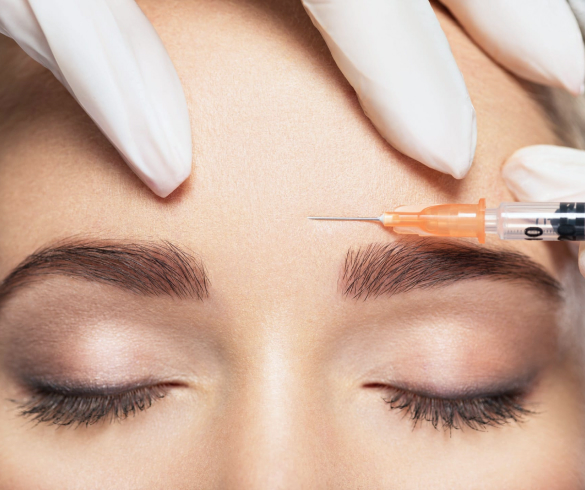 Hialeah Beauty Clinic
Refining facial features can not only accentuate your natural beauty but can also give you a confidence boost. For these reasons, the cosmetic industry is now one of the fastest-growing industries in the world, and at the forefront of the industry are aesthetic clinics that provide all manner of cosmetic surgeries.
If you live in Hialeah and are looking to have cosmetic treatment, such as Botox, done on your face, you're in luck. The city has one of the best aesthetic clinics in the whole of Miami, Vida & Co. Schedule a consultation with us now to learn more about what aesthetic services we provide.
Book Now
Aesthetic Clinic vs. Beauty Salon
There's a stark difference between what an aesthetic clinic is and what a beauty salon is.
Definition: The definition of an aesthetic clinic is any facility that provides anti-aging treatments, such as botox and fillers, as well as skin rejuvenation procedures and facial and chemical peels. They also provide laser hair removal services and a range of other skin-related procedures. On the other hand, beauty salons are establishments that provide make-up, hairstyling, and other timely beauty services. Self-pampering services such as manicures, pedicures, waxing, and facials are also provided.
Environment: Since aesthetic clinics deal with chemicals, the environment for the procedures done by them is controlled and sanitized. Cleaning and disinfecting are crucial in aesthetic clinics, and clinical waste removal services are always on the job in such facilities. Meanwhile, the interiors of beauty salons are creatively designed.
Services: The services provided by aesthetic clinics are heavily chemical-centric, while beauty salons provide non-chemical treatments like hair removal through waxing, threading, and plucking, dry skin removal through scrubbing and exfoliation, as well as nail and skin fitting. Massages are also done in beauty salons.
Things to Consider When Choosing an Aesthetic Clinic
Cosmetic treatments are not cheap. You want to make sure that you invest your hard-earned money in the right place and don't make any mistakes in the process. It's important to choose the right aesthetic clinic for your cosmetic procedure. Here are some things that you need to consider before zeroing in on a clinic.
In-depth stand-alone consultation
If you're new to cosmetic procedures, you may have many questions you want to be answered before you allow anyone to inject anything into your skin. This is why reputed clinics offer consultation to their clients before the procedure. The consultation allows the clients to clear any doubts or reservations they may have about the professionals or the treatment.
It's ideal for a clinic to provide stand-alone consultation services where they brief the clients on the treatment they provide and introduce them to the staff members. The consultation will also allow the professional to ask you questions about yourself, such as your skincare routine, what cosmetics you're presently using, any medication you're currently taking, and whether you've had any procedure done before. Vida & Co provides in-depth consultation to all the patients. Contact us to schedule one now.
Before and after pictures
Nearly all clinics now have social media handles where they frequently post before and after pictures of their work. You can browse the pictures and see if the results meet your expectations. This is also an excellent way of comparing the work of different clinics. Be it lip enhancement or botox treatment you're looking for; you could compare the images of any procedure this way and zero in on the clinic that provides the best results.
Online reviews
Reading reviews is a perfect way of gauging whether an aesthetic clinic can provide you with the kind of service you need. Once you've shortlisted different clinics, check their Google and social media reviews.
Pay special attention to the negative ones. See what complaints the unsatisfied customers had. Also, notice how the clinic staff responds to the criticism. If they pay heed to the negative feedback and rectify the problem, it shows that they are responsive to their clients' needs and demands. You could also see if the clinic has won any awards. These measures would help you decide which clinic is perfect for you.
Pricing
Cosmetic procedures can be expensive, but most aesthetic clinics have varying pricing standards. You can get quotes for the treatment you're looking for from various clinics and compare the estimates to see what fits your budget. Make sure you get an estimate before the treatment. If you're looking for an aesthetic clinic in Hialeah, schedule an appointment with Vida & Co for the best services.
Why Choose Vida & Co?
Vida & Co is an aesthetic clinic in Hialeah that provides an assorted range of cosmetic treatments and procedures. Our staff consists of qualified professionals who have years of experience providing cosmetic services, both to first-timers and old-timers. We pride ourselves on the quality service we provide. Our facility follows the strictest sanitary standards, so you can expect to receive safe and healthy treatment within our doors. Here are all the procedures we offer:
PRP & PRF Treatment
Lip Augmentation
Kybella
Sculptra Gluteal Lift
PDO Threading
Exosome Facial
Frequently Asked Questions (FAQs)
How long do the effects of Botox injection last?
Typically, the effects last approximately 3-4 months and can cause temporary weakness in targeted areas, but it varies from patient to patient.
How does PRP work?
PRP therapy helps extract growth factors in your blood and apply them to other areas that are not healing poorly. It taps into the natural processes followed by the human body.
If you're thinking of getting any of the above-mentioned treatments done, schedule a consultation with us now. We will brief you on the procedure during the consultation and answer any questions you may have regarding the treatment. Book a session with us now to receive quality aesthetic services from one of the best clinics in Miami.